Come, walk with us.
Storytelling Stations
Our theme this year is Come, walk with us. Tell us your story! We have arranged four storytelling stations that participants may attend. Each station will tell their story four different times, the stories will be 25 minutes in length. After 25 minutes, the participants will rotate to another storytelling station. We have allowed 10 minutes to transition from station to station.
Times: 1:45-2:10; 2:20- 2:45; 2:55-3:15; 3:25-3:50
Short-term Transitional Housing Ministry
Presenter: Kay Bontrager-Singer. Meets in Newcomer Center #19, Friday, June 22, 1:45-4:00p
Kay will share about the ministry of Faith Mennonite Church that provides transitional housing. Faith purchased its first house (Faith House) for hospitality in 2006 and it's second (Hope House) in 2017. Between the two houses, there is now space for three to four guests and live-in long-term hosts. Guests stay six to 12 weeks while they work toward arranging more permanent housing.  Most guests have some physical or mental health challenges which has lead to their homelessness. Offering short-term transitional housing is crucial for people moving out of homelessness, and it's not easy to find. Faith Mennonite believes this is one concrete way as a congregation we can share the love of Christ in our City of Goshen, and to grow in relationship with our neighbors.
International Guest House – a thriving hospitality ministry of Allegheny Mennonite Conference in Washington D.C.
Presenters: Jonathan and Betty Schrag. Meets in the Koinonia Room, Friday, June 22, 1:45-4:00p
For over 50 years, Allegheny Mennonite Conference, with a local board of directors, has operated an international hospitality ministry to global citizens who find themselves in our nation's capital for various reasons.  In a residential neighborhood, not far from the center of government, IGH offers overnight accommodations and opportunity for conversation with guests from home and abroad.  The everyday mixture of peoples and cultures under one roof offers an amazing relationship building context, where breakfast and evening tea time become places of sharing and learning.  Operated by mostly volunteer staff, IGH seeks couples and individuals to serve a hosts and hospitality service staff for this year-round ministry.
A Quintessential Story of Jesus-like Mission
Presenter: Jonathan Larson. Meets in the Sanctuary, Friday, June 22, 1:45-4:00p
One day on a train in Sri Lanka, midst the horror of ethnic strife, a woman stranger snatches a young man from death at the risk of her own life.
Get Home Safe: African American's rules for survival in an age of hate and guns
Presenter: Cyneatha Millsaps. Meets in the Genesis Room in the basement, Friday, June 22, 1:45-4:00p
African Americans have always walked carefully in this country, today we are reminded to focus on the most important factor, to simply get home safely. We are not only concerned about police brutality which has long been a fear in our community but now we are pledged with everyday gun violence in our neighborhoods by our own people.
Seminars
Participants to the annual meeting are invited to choose one of the following seminars to attend. One seminar, The Art of Listening, is a pre-conference seminar that will be held on Thursday, June 21, 3p. The rest of the seminars will be held on Friday, June 22, 4:15-5:15p. Please indicate your choice on the registration form.
The Art of Listening
Presenter: Nina Lanctot. Meets in Room 113 Thursday, June 21, 3:00p
Our conference theme is "Come walk with us. Tell us your story."  Implied in the theme is, "And we will listen."  What kind of listening helps us hear Spirit — Christ — Presence as we share stories?  The discipline of spiritual direction is a quest for just that kind of Holy Listening.  In this contemplative gathering we will listen to the story that shapes conference worship, Acts 16:6-15. Then we will turn to listening inwardly to our own (perhaps hidden) stories.  Finally we will listen to one another in "sacramental conversation."  Since Nina is the preacher for Thursday evening, we will especially listen for the theme of stories of "The Divine No."
Mennonite Worship and Song
Presenter: Bradley Kauffman
. Meets in the Sanctuary, Friday, June 22, 4:15p
Over recent months the Mennonite Worship and Song Committee has transitioned from Resonate (listening phase) to announcing the collection's title (unavailable at this time). Join general editor Bradley Kauffman for an update on the hymnal under development. He will share stories and examples from among the joys and challenges of curating a 21st century worship and song collection.
Bradley Kauffman earned a bachelor of arts in music education at Goshen (Indiana) College in 1996 and completed a master of arts in choral conducting at the University of Iowa, Iowa City, in 2002.
He has taught music in three Mennonite schools. From 2007 to 2015, he was a choral and instrumental music instructor at Hesston (Kansas) College. From 2005 to 2007, he directed instrumental music at Bethany Christian Schools, Goshen, Indiana. At Iowa Mennonite School in Kalona, Iowa, he was vocal and instrumental music instructor from 1997–2005.
Kauffman has led Music Week at Laurelville Mennonite Church Center in Pennsylvania two years, and has been active across the church in congregational musical life including hymn leading, guitar playing, serving as worship committee member and conducting church choirs. He has held roles in professional and community choirs singing and conducting. He studied under Dr. Timothy Stalter at the University of Iowa and also composer/conductor Alice Parker. At Goshen, he studied conducting and church music with Doyle Preheim. Kauffman also has experience arranging, composing, and writing, and plays guitar and hand drums.
Most recently Bradley has worked as full time stay-at-home parent; his wife, Renee Kanagy, serves as pastor of Cincinnati Mennonite Fellowship.
Mennonite Boomerang Project: Full circle mission for the outward bound
Presenters: Jonathan Larson and Sarah Thompson. Meets in Rooms 112-113, Friday, June 22, 4:15p
The goal of this proposed resource is to engage CDC communities in a fresh consideration of what it means to be sent by the Holy Spirit in this generation. What we have learned from history and testing where our future lies. What does it mean to be missional in our contexts?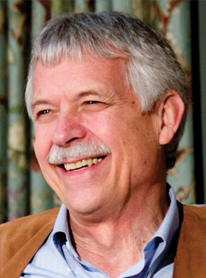 Jonathan Larson was raised midst the rice fields, bamboo groves and villages of NE India, where he was nurtured in faith by his missionary parents. He attended Woodstock School where he met his future wife, Mary Kay Burkhalter. Together they spent nearly 20 years as Mennonite volunteers in sub-Saharan Africa, where they raised three daughters who now sometimes describe their father as 'a wild man from Africa.' During their service, Mary Kay devoted herself to the struggle against AIDS, and Jonathan worked in grassroots leadership training with African Indigenous Churches. He has also pastored congregations in Minnesota, Georgia, South Carolina and Indiana as well as in Africa, along the way learning five languages and developing an appreciation of the universal power of story. An avid writer and frequent speaker at campuses, conferences and churches, he has also served as a Peace Evangelist among Mennonite congregations.
Jonathan is a graduate of the University of Minnesota (Minneapolis), Bethel Seminary (St Paul) and has done further study at the University of Grenoble (France), Selly Oak Colleges (UK) and at Columbia Theological Seminary (Atlanta).
He devoted three years to researching the story of the rare peacemaking work of Dan Terry in Afghanistan. This has resulted in an award-winning documentary film, 'Weaving Live' broadcast on ABC TV, and a book, 'Making Friends Among the Taliban' (Herald Press, 2013).
---
Sarah Thompson is a scholar-activist from Elkhart, IN, USA. She received a Masters of Divinity from Anabaptist Mennonite Biblical Seminary immediately before departing for work at Sabeel Jerusalem (2011-2012, through Mennonite Central Committee). She has been formed by travels to five continents through volunteer work with Mennonite World Conference, feminist anti-war movements, women's soccer teams, the Fulbright Scholarship, and Spelman College (graduated in 2006 with a Comparative Women's Studies & International Studies double major, and a minor in Spanish). Her current growing edges are related to her interest in postcolonial theology, social movement building, embodied nonviolence, acupuncture, and sanitation solidarity.Over the last five years Sarah has trained people of faith and moral courage in nonviolent direct action preparation. Most recently she was the Executive Director of Christian Peacemaker Teams. She is now transitioning to the Martin Luther King Jr. Center for Nonviolent Social Change.
The Future of Mennonite Education
Presenter: J Denny Weaver. Meets in Room 108, Friday, June 22, 4:15p
Seminar will make use of the recently published Education with the Grain of the Universe, edited by J. Denny Weaver, to discuss the orientation of education for the peace church. The book uses essays and discussions from a number of academic and practical disciplines to illustrate how a commitment to nonviolence derived from the narrative of Jesus can shape the entire curriculum at peace church institutions. In interview style, Presidents of Bluffton University (Jim Harder) and Goshen College (Rebecca Stoltzfus) will share their experience with such education.
J. Denny Weaver is Professor Emeritus of Religion at Bluffton University, where he taught in the Religion Department for 31 years. A primary theme throughout his many publications is the role of violence and nonviolence in theology. His most recent books are God Without Violence: Following a Nonviolent God in a Violent World and the edited volume, Education with the Grain of the Universe: A Peaceable Vision for the Future of Mennonite Schools, Colleges, and Universities. He lives in Madison, Wisconsin, and is a member of Madison Mennonite Church, a CDC congregation.
Missional Discipleship
Presenter: Karla Minter. Meets in Rooms 110-111, Friday, June 22, 4:15p
"What the church needs is a 'kick in the A–!'" Seriously, this is what I heard at a missional church conference. We are committed to becoming faithful disciples, followers of Jesus Christ, that engage the world to bring about restoration, peace, and justice. We are less equipped to be disciple-makers who show the way for others to become an incarnational presence in the world. To move from being disciples to becoming disciple-makers, we need the Apostolic gifts of the church; the generative, catalyst that can ignite a missional movement. We need a kick in the A–!
Join me for this one-hour immersion into a Missional Discipleship experience using the text, prayer, and gatherings of three persons to reach the margins of your congregation and beyond.
MCC Relief Kits
Presenters: Gr6 -12 Children with Susan Setiawan. Meets in Rooms 131-132, Friday, June 22, 4:15p
Help the Gr6 -12 children put MCC Relief Kits together using the items brought by delegates to the annual meeting.  Items to be included in the kits:
Contents (NEW items only)
4 large bars bath soap (leave in wrapper)
Shampoo (1 or 2 bottles, totaling more than 20 oz; place in resealable plastic bag)
4 large bars laundry soap (such as Fels Naptha®, Sunlight® or Zote® brands)
4 adult-size toothbrushes (in manufacturer's packaging)
4 new bath towels (medium weight, dark or bright colors; approx. 29 in x 60 in)
2 wide-toothed combs (6–8 in)
1 nail clipper (good quality)
1 box adhesive bandages (minimum 40, assorted)
Sanitary pads (THIN; 1 or 2 packages, minimum 28 pads total)
Thank you for limiting your generosity to the items listed. Due to strict regulations some countries have on the expiration date of toothpaste, MCC no longer asks for toothpaste to be donated with the kits. Instead, we will provide toothpaste with the kits when they ship from our warehouse.