Come, walk with us.
Thursday, June 21, 2018, 7:30pm at College Mennonite Church in the sanctuary
Speaker: Nina Lanctot
Text: Acts 16:6-15
Theme: The Divine No
Sermon Title: "O, Jesus! Why don't you answer?
When seeking direction, Quaker's use this expression: "Have faith and Way will open." But what about when Way doesn't open, and all doors seem locked and barred? Where is God/Jesus/Spirit then? And what is the wisdom that can only emerge in the waiting? What if Way is only seen in hind sight?
Nina B Lanctot served as pastor of three congregations, in IN/MI Conference and CDC, over the last 27 years while concurrently offering spiritual direction. She is in the midst of one of those liminal times when, as Merton prayed, "O LORD, I have no idea where I am going. I cannot see the road ahead." "Sounding out Wisdom in a Noisy World" is the theme of her ongoing and expanding spiritual direction practice. She lives with Donald, a high school English teacher, and Taavi, a Chinook dog, and enjoys continuing to grow up with her adult children and grandchildren.
Friday, June 22, 2018, 7:30pm at College Mennonite Church in the sanctuary
Offering for the work of Central District Conference
Speaker: John Powell
Text: Acts 16:6-15
Theme: Host as friend, enemy, stranger, guest
Sermon Title: The Welcome Table
Each of us are assigned a status in life by society. What we think and how we respond to others depend on our assigned status in life. Can different circumstances affect our attitude toward others? Our Scriptures can give us insights.
John H. Powell is an ordained minister in Mennonite Church USA. John has served as pastor of congregations in Detroit, Michigan, Wichita, Kansas and Buffalo, New York. He has served the church as an administrator and mission advocate for the denomination. He's consulted with area conferences and congregations on strategic planning for developing churches of holistic ministries for community renewal. John has also served as a regional pastor for Indiana-Michigan Mennonite Conference. He is also a columnist for Mennonite World Review.
He and his wife, Shirley, have three adult children and three grandchildren. They live in Ypsilanti, Michigan.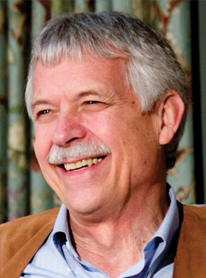 Saturday, June 23, 2018, 8:30am at College Mennonite Church in the sanctuary
Speaker: Jonathan Larson
Text: Acts 16:6-15
Theme: The Divine Yes
Sermon Title: The Divine 'Yes'
The Divine 'YES', as happens so often, is heard here in the whisper of a small detail: the baptism of Lydia and her household. If this be an echo of Jesus' own baptism at the Jordan, then that riverside voice from heaven echoes too for a Gentile woman entrepreneur. The whole story brims with the impulse of Jesus' own manner – to seek outsiders with heaven's assurance of welcome and compassion, the Divine 'Yes'.
Jonathan Larson was raised midst the rice fields, bamboo groves and villages of NE India, where he was nurtured in faith by his missionary parents. He attended Woodstock School where he met his future wife, Mary Kay Burkhalter. Together they spent nearly 20 years as Mennonite volunteers in sub-Saharan Africa, where they raised three daughters who now sometimes describe their father as 'a wild man from Africa.' During their service, Mary Kay devoted herself to the struggle against AIDS, and Jonathan worked in grassroots leadership training with African Indigenous Churches. He has also pastored congregations in Minnesota, Georgia, South Carolina and Indiana as well as in Africa, along the way learning five languages and developing an appreciation of the universal power of story. An avid writer and frequent speaker at campuses, conferences and churches, he has also served as a Peace Evangelist among Mennonite congregations.
Jonathan is a graduate of the University of Minnesota (Minneapolis), Bethel Seminary (St Paul) and has done further study at the University of Grenoble (France), Selly Oak Colleges (UK) and at Columbia Theological Seminary (Atlanta).
He devoted three years to researching the story of the rare peacemaking work of Dan Terry in Afghanistan. This has resulted in an award-winning documentary film, 'Weaving Live' broadcast on ABC TV, and a book, 'Making Friends Among the Taliban' (Herald Press, 2013).